The Department of Sales of Chemical and Industrial products is the first activity of the company which founded in 1972 under the trade name CHEMTECH Company in order to represent in Greece manufacturers of Chemical and Industrial products.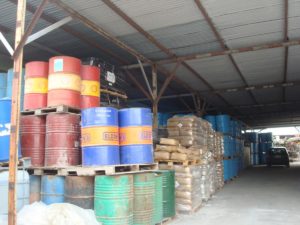 The main products was:
• Synthetic clothes, products of the company TAMFELT Finland, for use in paper industry, fertilizer industry, metallurgy and sugar industries.
• Paraffin oil of trade name PIONEER used in food industry as lubricant and cleaner for different materials.
• Raw material for various industries.
• Alcohols as raw material for many chemical industries in Greece.
TECHNOCHIMIKI LTD founded 1978 and continues the activities of CHEMTECH supplying today the Greek market with several chemical products and industrial raw materials, being today the main activity of the company.
Until 2019 the Department of Chemical and Industrial products is active in Greek market for import, production and sales of various products with a total turnover over 5.000.000€ per year.
The main Chemical and Industrial products are the following:
• Concrete additives.
• Antioxidants and Anticaking.
• Special lubricants.
• Grinding aids.
• Explosive's raw material.
• Antifoaming.
• Emulsions.
• Electrical insulation material.